Remodeling Activity Growth Graph
Index finds 4.5% year-over-year rise in pro-worthy projects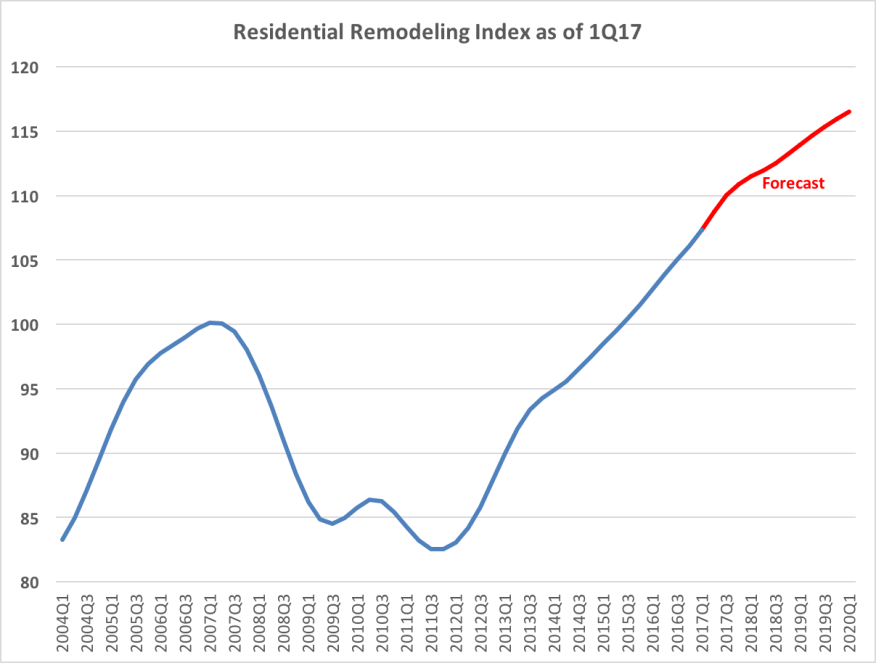 Metrostudy's Residential Remodeling Index as of 1Q17
Source: Metrostudy
Pro-worthy remodeling activity nationwide recorded its 20th straight quarter of growth during 2017's first three months and looks set to keep rising, albeit a bit more slowly, through 2020, today's release of Metrostudy's latest Residential Remodeling Index (RRI) indicates.
The index hit a new high of 107.3, which means remodeling-friendly conditions are 7.3% better than they were during the previous peak in spring 2007 and are 4.5% ahead of where the index was in 2016's first quarter. And unlike past years, in 2017 all 381 Metropolitan Statistical Areas across the country can expect to see year-over-year growth in remodeling and replacement projects.
Metrostudy, a sister company to REMODELING, extrapolates its RRI from a combination of economic indicators and other factors, such as remodeling permit counts, that together give a portrait of how many replacement and remodeling jobs worth at least $1,000 are occurring in each of the 381 MSAs. The national RRI is a composite of those local market reports.
There were roughly 11.4 million pro-worthy remodeling and replacement projects nationwide last year worth $170.62 billion, Metrostudy estimates. This year, it predicts the number will rise to 11.9 million worth $180.05 billion.
"The current strength of the remodeling market can be attributed primarily to economics-–low mortgage rates, strong existing home sales, the bull stock market run, good job gains, and now more recently, wage gains," Mark Boud, Metrostudy's chief economist, said in a news release. "Yet, as the economic cycle matures over the next few years, rates increase and full employment translates to less robust job growth over time, demographic trends will play a bigger role in driving demand for remodeling. Baby-boomers will continue retiring and aging in place as they have been, and Millennials will be increasingly maturing in their life stage-–jobs, dating, marrying (or no not marrying), buying a home, and choosing to remodel that home. And, with housing affordability an issue in many markets across the country, Millennials will be more inclined to purchase older, more-affordable existing homes that will necessitate renovations. Demographics will matter greatly to remodeling over the next few years as the economic cycle matures."
About the Author
Contact San Antonio Remodeling Contractors
For any remodeling services contact our Remodeling Contractors San Antonio for a free consultation.
Our Kitchen Remodeling San Antonio, bathroom remodeling, outdoor kitchen and living remodeling and new home building services are at your service.